Google My Business
Google has changed the length of posts published via Google My Business to 1,500 characters. Previously, the length of Google My Business posts was based on words, not characters.
Google used to require a minimum of 100 words per post, up to a maximum of 300 words. Now there is apparently no minimum length for Google My Business posts.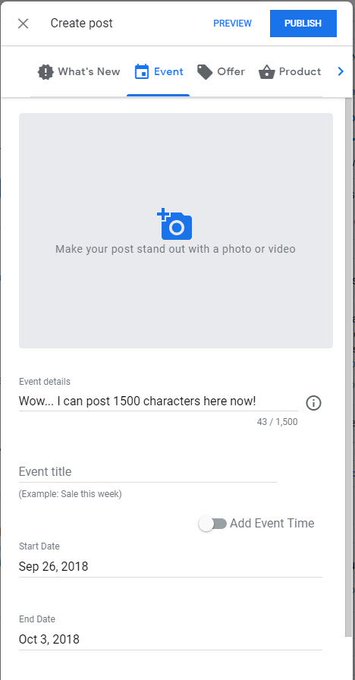 In most cases, users will find that the maximum length for posts has been shortened, as 1,500 characters are approximately the equivalent of 250 words. Of course, that will vary depending on the size of words an individual uses. I believe users will be hard pressed to stretch 1,500 characters into 300 words or more.
See Anyone's Real-Time Analytics
What will you do when you can lift the curtain on the internet? Insights you were never meant to see. Data that will change marketing forever.
That means users who previously wrote posts that met the 300-word limit will now have to get used to writing shorter posts. Although that may be a good thing because 300 words would make for a fairly sizable post on a platform like Google My Business. When users visit a GMB page they're looking for short bursts of information that they can absorb quickly. It's not a place where people go to read articles. That's what a website is for. Not to mention one of the key benefits of GMB posts is that they show up in Maps and search results. So being succinct is key in order to grab people's attention. The length of a tweet or Facebook post is closer to the ideal length of a post on Google My Business.
What is Google My Business?
Google My Business is a free tool for business owners to manage their online presence across the Google suite of websites, including Google Search, Mobile Search, Local Search and Google Maps. It allows you to create, verify and edit a business listing in Google, without needing to do any extra work to your website or implementing a search engine optimization strategy.
Google developed Google My Business as a way to make it easier for searchers to get the information they need, quickly and conveniently. Your business's address, opening hours and contact information will appear in your Google My Business listing, without the need for someone to click through to your website and go looking. Put simply, it allows potential customers to more easily find you, and contact you.
As a business owner, you might already have a whole bunch of online real estate that requires your attention: there's your website, your Facebook page, Twitter, Instagram, the list goes on. Isn't Google My Business just another page you'll need to remember to keep up to date?
How Important is Google My Business?
Google's entire business model is based around being unquestionably the single best search engine. If you didn't find what you were looking for quickly and easily, every time you searched Google,  you might eventually try using a different search engine! So everything Google does is for the searcher's convenience.
If a potential customer is just looking for a phone number, an address or opening hours for your business, then there is no need for them to click through to your website – those details are provided in your Google My Business listing, right there in the search results.
Some business owners have asked "Isn't that a bad thing? If people don't need to click through to my website?"
Don't look at this as one less click to your website; look at it as a potential customer finding the information they were looking for more easily. If they only wanted your phone number or to see if you were open on a Saturday, they found that information more quickly than if they'd needed to click onto your site. That customer is entirely satisfied!
Of course, if the customer wanted some other information, they would have clicked through to your website.
For this reason alone, setting up a Google My Business listing is a worthwhile exercise. But when you start looking a little deeper, a Google My Business listing is absolutely essential for every business.
Even if your business is solely "online" – i.e., you may not want to advertise an street address because you run your business out of your own home – you would still provide your physical location for verification purposes, but you can choose not to display your address in your public GMB listing.
Benefits of a Google My Business Listing
If someone is searching for your business name, then they are already aware of your business – perhaps even a returning customer – so your full Google My Business listing will display in the search results. You've probably seen these listings before, to the right of the search results:
But what if someone is searching for a more generic phrase? Such as:
mechanic near me
pool shop open sundays
Each one of these searches results in a "three-pack" result above the standard organic search results.
You've probably seen these three-packs before as well – a map with three local businesses pinned onto the page. Those business details are pulled from each business's Google My Business listing. In fact, the backbone of Google's entire Local Search directory is Google My Business.
Simply setting up your Google My Business page can be enough to get you featured in a three-pack result. And the fact that these three-packs appear on top of the standard organic search results makes them critically important.
As if that weren't enough, there are a number of other benefits to having a Google My Business listing:
Google My Business is essential for Local SEO as it enables your business listing to appear in local search results for queries specific to your products or services. Even broad queries with large search volumes display local results in the three-pack, and this is something small business owners can capitalize on.
Control Your Information and Service Offering
At the very least, use Google My Business to put basic information about your business into Google's Local Search index. But Google My Business also offers a range of additional tools to help you attract and inform local customers. For example, you might add information like product lists, accepted payment types, menus and prices, plus interactive features such as photos and reviews. You can even add coupons and special offers for your visitors.
Manage, Showcase and Respond to Reviews
Increasingly, one of the most important elements of a Google My Business listing is User Reviews. Google has recently started a campaign to recruit users as "local guides", rewarding them when they rate and review local businesses. High-quality, positive reviews from your customers will improve your business' visibility, and increases the likelihood that a potential customer will visit your location.
Learn More About Customers
The Google My Business platform enables local businesses to learn even more about their customers by including a lot of extra analytics data you won't find elsewhere. For example, on Google Maps, you can access information on where requests for driving directions to your business originated from. This might be useful information that can help you target new customers in the area, or potentially target a new suburb to expand into as your business grows.
Don't Miss Out on the Benefits of Google My Business
Make sure that your business has an up-to-date and detailed Google My Business listing. If you have not taken the time to create and optimize one, then you're missing out on one of the best free (and guaranteed!) ways of appearing in the Google search results.
Google My Business pages aren't complicated, but they are important. While you may feel like it's just one more web page to keep on top of, Google My Business should go to the top of the pile as one of the most important.
It takes just a couple of minutes to set up your basic Google My Business listing, so make sure you do so – you could see the benefits instantly!