Tips For Starting A WordPress Website in 2018
So you're looking to set up a new website. You've got a good idea of what your site will be about, what content you'll have on it, whether you'll be selling anything, the list goes on. Now to get started with WordPress! Here are some Tips For Starting A WordPress Website in 2018.
It seems like you're all ready to begin, right? But wait, what about your platform? If you're reading this, you've probably chosen – or are considering choosing – WordPress as your site platform, but aren't sure how to begin (or maybe you just need a refresher on how it works). This article will help make the process easier by taking you step by step on how to get started with your WordPress site.
Step 1: Find the Best Hosting for Your Site
Before you can use WordPress.org you need a hosting service. You can set up your own server and install WordPress on your computer, but when you're just starting out it's easier to subscribe to a service that already has servers set up and ready to host a WordPress site. Some services are free, and some are paid; we recommend using a paid one, as they will provide higher quality services and features.
Not sure which type of hosting or which host to choose? We completely understand (and we've been there before, Responsive Designs has switched hosts a couple times before finding a perfect fit). There are a few different types of hosting to consider, all with their own pros and cons. You can read our guide on the best WordPress hosting, or take a look at our handy infographic showcasing the top hosting options we'd recommend to new WordPress users.
Shared Hosting is what most new WordPress users start with. It's an easy budget-friendly option that has enough resources to host a new website. Most shared hosts offer one-click WordPress installation, a reasonable amount of storage & bandwidth and sometimes a few perks (like Google Adwords coupons or even a free domain name). In our opinion the best shared hosting plan is from Bluehost. Starting at just $2.95 per month (with our special link) it's a great option for those just starting out with WordPress.
Managed VPS (which stands for Virtual Private Servers) is a step up from shared hosting. You still share a server with other users, but the server is partitioned into sections so you each have your own mini server for better security, privacy and website operation. Plus, with managed VPS you don't have to maintain your server – the hosting company handles software updates and code WordPress updates for you so you can focus on your website. Our pick for the best managed VPS is Flywheel. They offer fantastic services like free migrations, built-in caching, automated backups and more giving you a lot of bang for your buck.
And the last hosting option is Managed WordPress Hosting, which is when the hosting company fully manages your server for you. Managed hosting offers more features and website resources than shared, and many managed hosts will offer scalable hosting plans so you can start small and upgrade your server as your business grows. We've used managed hosting from WP Engine for years and are extremely happy with the quality of our hosting as well as the awesome service from their support team. They offer a great personal plan for new bloggers, as well as amazing premium & enterprise level plans for high traffic websites.
Step 2: Choose a Domain Name
You probably already have your website name, or a shortlist of names, picked out. That's great! If you don't, there are plenty of articles that can help you brainstorm ideas (just keep in mind your domain name should reflect the purpose of your site and be interesting enough to draw visitors).
The other part of naming that gets somewhat less attention is the domain name. In technical terms, a domain name is the part of a URL that identifies IP addresses (which identify computers or devices on a network) and web pages. More simply, it's your web address. Every domain name has a suffix, such as .com or .org. You can register any domain name you like that isn't already taken – for an annual fee. Some hosts will give you a free domain registration for the first year, and as part of the sign-up process, hosts will also automatically check to see if the domain is available for you to use. But you can always purchase a domain name directly from a registrar like NameCheap or GoDaddy.
After you've settled on a domain name, follow your hosting company's instructions for completing the setup process (you'll need to point your domain name to your host – just check their online docs or do a quick Google search to find specific instructions). Now the real work begins!
The next steps don't necessarily have to happen in a particular order, as you can now access your dashboard and turn your attention to whatever you feel is most pressing.

At this point it can be helpful to view your site and have a look through your admin options so you know what you have to work with.
Step 3: Customize Your Site Design
WordPress defaults to a particular theme which you can stick with as-is, customize or change it to a new theme. WordPress has several pre-installed themes to choose from. To see the directory of free WordPress themes, click on Appearance > Themes. If you click the Add New button you'll see a list of free WordPress themes from the WordPress.org directory along with details about the themes, and the option preview or install them.
You can also choose to install a theme developed by a third party. Third party premium themes offer more variety and often include many more features than the themes you'll find in the free theme directory. Themeforest is a good starting place to find a premium theme, or you can browse the many theme collections we've put together here at Responsive Designs. After you've found, purchased and downloaded the theme you want simply go to the theme directory and click Upload Theme.
The next screen prompts you to browse for the theme on your computer. Follow the instructions to install your theme. After installing your theme, you'll need to activate it in order to use it.
Other parts of your appearance that you'll want to customize are the widgets, menu(s), header and background. These can all be changed using the theme customizer which you can find under Appearance (just below the themes option). Click on it to open up the love WordPress customizer:
WordPress comes preloaded with a number of widgets, some of which are activated and appear in your site's sidebar. You can rearrange them as necessary, and if you want more you can always install a plugin to add new ones.
Your theme may support different or multiple menu locations (main, top bar, footer, etc). If it doesn't, menu plugins are available for installation. You probably won't need to worry too much about this though until you have several pages set up.
Step 4: Add Plugins for More Features
Depending on both how you're using your site and on the functionality of your theme, you will likely need to install and activate various plugins. These add to what your site is able to do.
To install free plugins, visit the plugin directory by clicking on Plugins > Add New and browsing for a  plugin, or you can install plugins you've purchased from other sites by clicking on the Upload Plugin button.
If you're interested, here are the three key plugins we use and recommend here at WPExplorer.
VaultPress
While most good hosting companies offer daily backups as a part of their plans, we highly recommend your backup WordPress on your own just to be safe. We use and love VaultPress as it's affordable (it's actually a part of the JetPack premium plans), easy to use (just install and link to your WordPress.org account) and it takes a full backup of your entire site – media included.
Akismet
Just like VaultPress, Akismet is a part of premium JetPack subscriptions and we think it's the best spam plugin for WordPress. Akismet helps filter out spam comments using its own algorithm and comments that Akismet users report. This way you can spend less time monitoring your comments and more time focusing on your SEO and content.
Yoast SEO

For any website owner a good SEO plugin is key. There are a few popular plugins out there, but we use and love Yoast SEO. This plugin includes everything your absolutely need to get started on improving your SEO including sitemaps, default titles/excerpts, breadcrumbs, RSS feed display, open graph meta tags and on-page SEO tools (for key words, readability, etc).
In addition, we also suggest using a CSS live editor such as CSS Hero or Yellow Pencil to customize your site design if your theme doesn't include enough styling options. For more useful plugins, checkout our plugin collections to find great plugins for maps, bookings, social sharing, translations and more.
Step 5: Create Key Pages
Unless it's designed to be a one-page site, every website should have at least a couple pages, including an about page and a contact page. We also recommend a blog page to house your news or posts as well. But depending on your site's purpose, you'll probably want other pages as well, such as a portfolio or gallery to show off your work. If you have products to sell, you'd want a store page. Keep in mind you may need or want to install plugins in order to add and customize these types of pages.
Home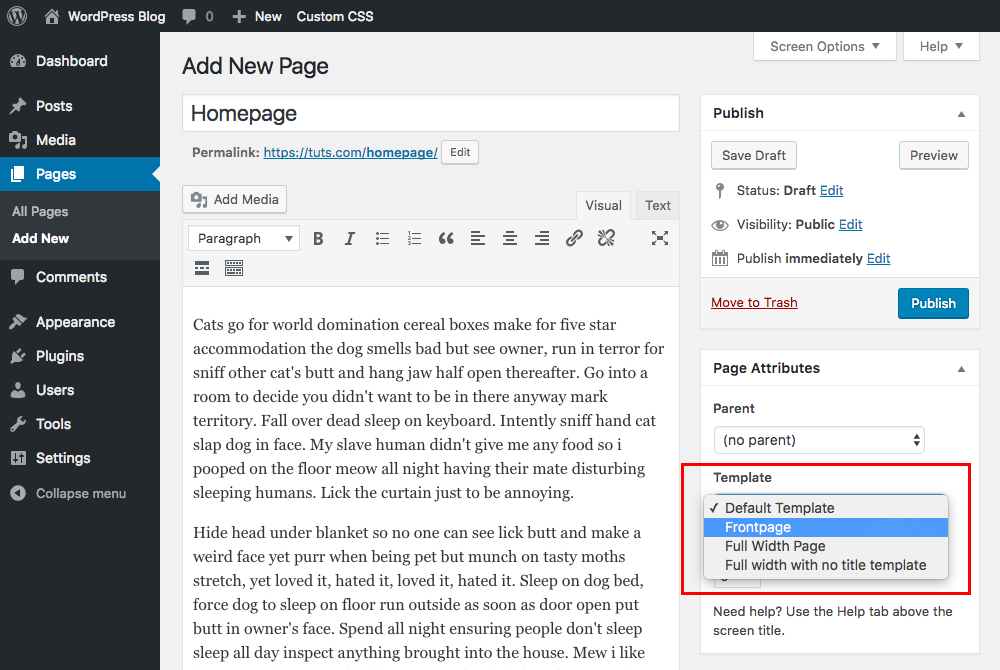 Your homepage is the first page people will see when they go to your main url. Some themes will include a homepage template (like in the screenshot above), or you can use a page builder to create something custom. Whatever you choose just remember to set the Homepage you created under the Settings > Reading section and selecting the "Static page" option (note: your blog can be your homepage, and if that's what you want to use as your main front page just leave the "Your latest posts" option selected). For more help, checkout our guide on how to create homepage.
Blog
Most websites will have a blog – in fact, many sites are just a blog! Depending on your theme you may not need to create a blog page, as many blogging WordPress themes are already styled so you can just get to work adding posts. Some however do include a custom blog page template, which you can use by going to Pages > Add New and then selecting the "blog" template from a metabox to the right of or below the main text editor. Once you save your page, you'll also need to define it as your blog under the Settings > Reading > Static page as your "Posts page" option.
About
About pages are great for businesses to share company history, mission statements and team members. Or for independent bloggers to share notes on how they got started, their interests and their personal story. While not every site needs one it's a good page to consider if you want to connect with your audience on a more personal level.
Contact
Pretty much every website will have a contact page. It's fairly simple to create a contact page with WordPress, since there are a plethora of easy plugins compatible with popular themes. At the very least you can consider using one of these contact form plugins to add a simple form to your footer or sidebar, or a mapping plugin to showcase your locations.
Portfolio
For some businesses it makes sense to showcase your work, which is where a portfolio is very useful. To create an online portfolio you can either choose a theme or add a plugin that includes a portfolio custom post type. Custom post types add a new easy to find menu item in your main lefthand WordPress dashboard and often work just like adding a blog post, only they're styled differently and include custom options specific to their purpose. So a portfolio will typically include options to build galleries, upload videos or even audio so you can show potential clientele how awesome you are.
Store
Lastly, whether you want to sell your own goods in an Etsy-like shop or recommend items from affiliate stores on your own site you can build an online store with WordPress. Specifically with the free WooCommerce plugin. Similar to a portfolio, WooCommerce (and other e-commerce platforms like EDD or Shopify) adds a custom post type with custom options for your products such as digital/physical item, product gallery, product variations, coupons, shipping, taxes and more.
Step 6: Importing and Exporting Content
These tools often get overlooked in discussions about getting started. If you're new to WordPress but not to blogging or website management, importing and exporting are handy tools to have, and easy to do. To move content from an old WordPress website, use the export tool to download and xml file of your site content.
To bring in your content from another site, use the import tool. If you purchase a premium theme it probably came with sample data (in the dorm of a .xml file) that you can import to help get you started. We recommend using the sample data if you need help figuring out how to use a theme or if you want to import an exact demo (especially when using themes that have tons of sample demos to choose from).
Step 7: More Info to Get Started with WordPress
This article discusses the important parts of getting started with WordPress. However, if you're still feeling lost, here are some more resources for you:
Unsure what everything in WP Admin does? Check out our article on the WordPress dashboard explained
Still getting used to the lingo? Have a look at our WordPress Glossary for Beginners (where we explain confusing terms)
For getting down to the nitty gritty of starting a website, have a look at this guide from WordPress
Can't pick a theme? Here are the best WordPress themes for infopreneurs (which is a fancy word for bloggers)
For a guide on using a free theme checkout how to start a blog
 And if you want to monetize your blog and start selling products this article on how to become a successful blogpreneur is a great place to start
WP Explorer has a ton of other resources to help you learn more about using WordPress. Browse our blog and other articles to get familiar with it!
Conclusion
Whether you're new to owning a website, or simply new to WordPress, it can be tough to finally get started with WordPress. Having a guide and other resources is invaluable in situations like that. Using the tools we've provided here can help make the process smoother, and get your site up and running even quicker.