We have all been hearing about WordPress 5.0 time and time again and the good news is that it is finally getting launched. Speculations are that on its launch, some people aren't going to be happy.
WordPress 5.0 is another major update that is set to take the WordPress community by storm. Along with some significant fixes and improvements, one of the major ones is 'Gutenberg,' the new WordPress editor.
All eyes are on the new WordPress editor that is going to rock every corner of the WordPress echo system. Billions of dollars are currently circulating within the WordPress industry and investors are waiting eagerly for Gutenberg to hit the market.
WordPress 5.0 Brings Gutenberg
Gutenberg is the new WordPress editor that has so far received some mixed reviews from the WordPress community. Launched as a plugin for testing purposes, it currently has an average rating of 2.5/5 with 158 people rating it as one star.
But still, the folks at WordPress are knee-deep in making Gutenberg the perfect WordPress editor while also maintaining the reputation of an easy-to-use website building platform. The current editor is very user-friendly and is one of the main reasons behind WordPress's popularity.
Many WordPress users are frustrated over the fact that Gutenberg will be made a part of the WordPress core instead of it being launched as a separate plugin. Many question that why Gutenberg is being released with WordPress 5.0 as it's barely usable and highly untested.
Some reviews of users who have already tested Gutenberg: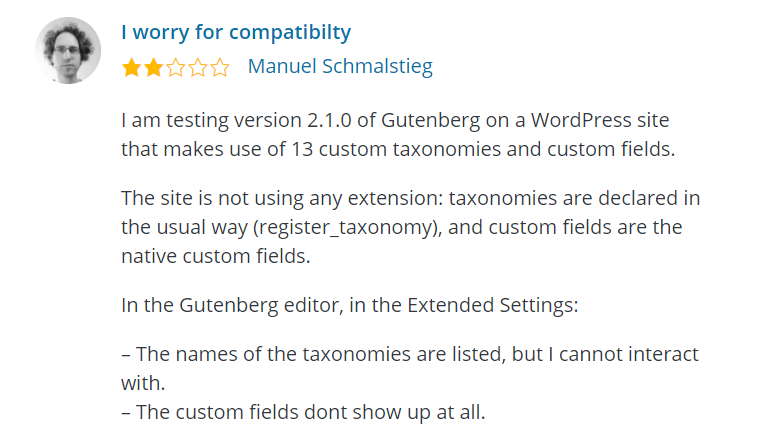 One way or another, WordPress users will have to deal with the new editor. Gutenberg provides an interface very similar to page builders where content is broken down into blocks. If you're familiar with Medium, you will figure out the source of inspiration.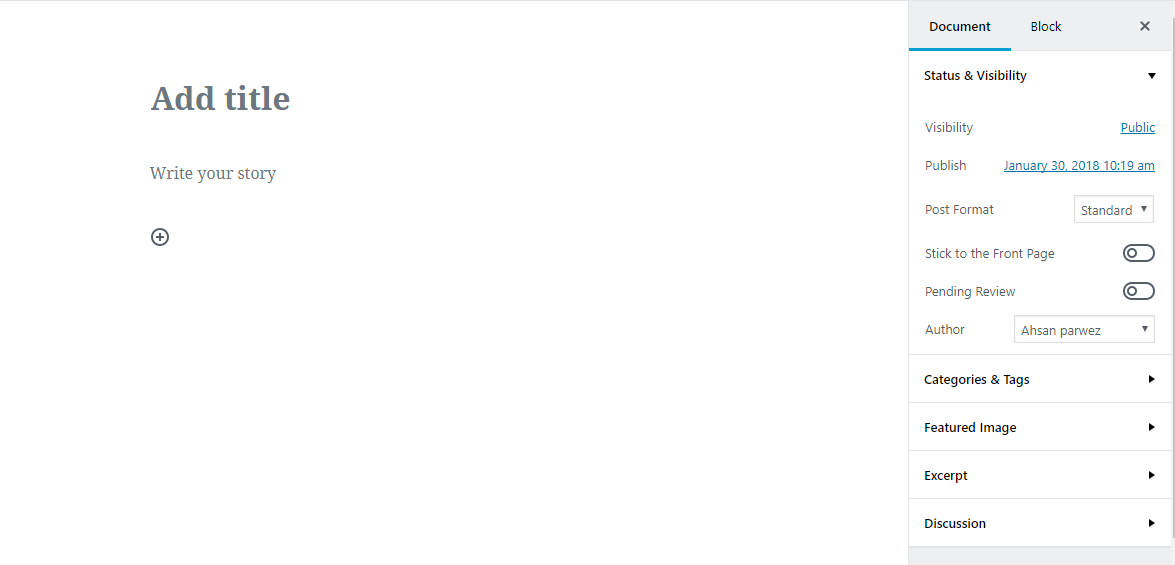 Gutenberg's Compatibility
Gutenberg might have problems integrating with WordPress plugins. Almost all WordPress websites have plugins installed in them and many have their back-end customized to some degrees so there is a higher chance that upon Gutenberg's release, things can go south.
However, WordPress core contributors have noted the problem that Gutenberg's release might cause trouble for site owners and they are trying to solve this issue before the official release. For now, the editor is available as a plugin for users to test and give feedback and this is the only way to make sure that Gutenberg works for everyone without any complications.
Compatibility is the main reason why many WordPress users are demanding the editor to be released as a separate plugin and not as part of the WordPress core.
To Switch or Not to Switch? – The Big Question
Upgrading to a newer version of any software is a decision that must be taken after a few test runs. Companies are usually reluctant to upgrade to a newer version and continue to work on previous ones as they are happy with the performance. WordPress 5.0 will be bringing major security updates and bug fixes, so updating your website to 5.0 is not much of a choice but a necessity.
Gutenberg, on the other hand, can be avoided by simply installing the Classic Editor plugin that will allow you to use the current editor on WordPress 5.0. However, you shouldn't join the pessimists' bandwagon before trying the editor yourself. If you're more comfortable with using page builders then you might actually fancy using Gutenberg. Here are some things to consider before switching to Gutenberg:
The need for customer support as chances of something going wrong are high
You might need to train your clients if they are handling the content side of the website
You will need to test Gutenberg on all your websites if you are managing multiple websites
If you're using WordPress for a personal blog where your major activity is writing, Gutenberg might be a good option.
Testing Gutenberg and deciding whether to use it on your website will be a process everyone will go through. You need to make sure to make a decision that is based on what is best for your website and your clients and not on user reviews.
Gutenberg is Compatible with Themes
Unlike with WordPress plugins, Gutenberg will be compatible with your WordPress themes as they are with the current editor. As already mentioned before in the article, the content is broken down into blocks. So, users will also have the ability to customize their blocks and add specific layouts directly into the content. Gutenberg will provide a more accurate WYSIWYG experience and has the potential to be the game changer when building a website.
What About Your Clients?
Casual WordPress users might not be aware of the arrival of Guttenberg. Since your clients are busy with the business side of things, they might have no interest in WordPress 5.0 or the new editor. If they, by any chance, handle the content side of the website, they will be in for a huge surprise.
Your job here is to brief them about Gutenberg and provide them with tutorials so they understand how the editor will change with the new update. This way you will be able to avoid some late night panicky calls by your clients a few months later.
"Change is the only constant in life". Everything changes, WordPress included, and we must not fear the change but adapt to it: themes, page builders and other plugins must find its way with Gutenberg as it is going to become our reality soon."

Ivica Delic on Gutenberg
Things to Know About WordPress 5.0
Before updating to WordPress 5.0, here are some things to consider:
Create a backup before updating to WordPress 5.0. You can't go back!
WordPress 5.0 may break themes
You will have to adapt to a different way to use themes and plugins
The transition to Gutenberg will not be easy. Be patient!
WordPress 5.0 will replace everything with blocks. Even plugins.
Don't upgrade to WordPress 5.0 right away. Wait a few months.
Final Piece of Advice
If you wish to get a taste of Gutenberg, download the plugin and start exploring. The transition will be a lot easier if you're familiar with the basic functions of the editor. Since the arrival of Gutenberg is inevitable, you and your website must be prepared to run on the new editor.